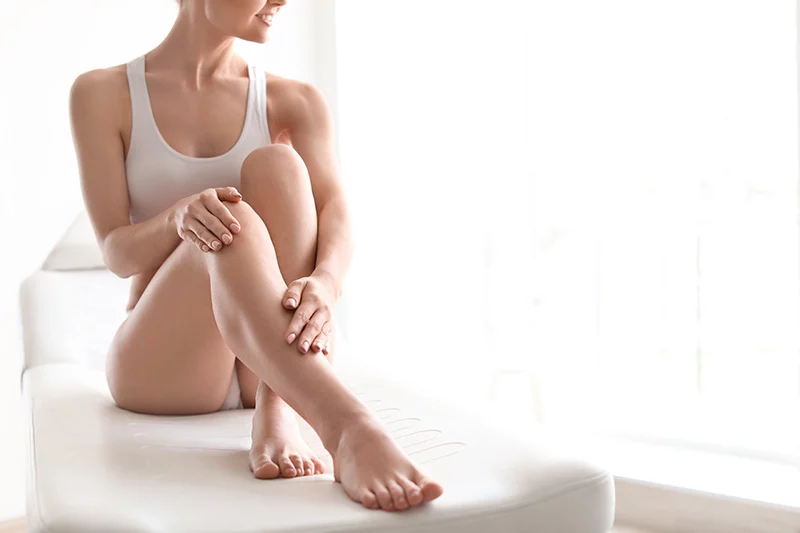 Is Laser Hair Removal Worth It? – YES!
Anyone who's beauty routine includes regularly shaving can probably agree, having smooth hairless skin with no need for maintenance is an impossible dream – right?
Wrong! With laser hair removal you can achieve exactly that! Experience effortless smooth skin, with no stubble, no 5 o'clock shadow, and no more razor burn or ingrown hairs. After laser hair removal, you can ditch the razor for good and still have silky smooth legs, a stubble-free face, or bare underarms without the shaving upkeep.
Are you considering laser hair removal? If you have questions about this life-changing treatment, we have answers! Our experienced laser technicians at Artemedica have compiled the nine most common laser hair removal questions straight from our patients here for you!
1. Does It Hurt?
The most commonly asked laser hair removal question is usually whether or not the procedure hurts. The traditional method of laser hair removal has been described as a stinging sensation and compared to snapping a rubber band on your skin. At Artemedica, all of our Sonoma County patients enjoy a new, virtually painless laser hair removal procedure! The Soprano ICE Laser Hair Removal system combines a cooling system and advanced In-Motion laser technology to
remove any unwanted body hair with mild to little pain.
The advanced Soprano ICE system is the first of it's kind to effectively remove unwanted hair with mild to little pain and discomfort throughout the treatment. By gradually heating up hair follicles, the laser system effectively eliminates hair without the pain and discomfort of traditional methods.
2. Can I Get Laser Hair Removal Anywhere on My Body?
Yes! You can have laser hair removal treatments performed on any area of your body that grows hair. The Soprano ICE laser hair removal system is gentle enough for even the most sensitive of areas.
3. Who Can Get Laser Hair Removal?
With the Soprano ICE laser system, we can remove unwanted hair from any part of your body regardless of age, sex, or skin type. From light to dark hair colors, and fine to coarse follicles, anyone is a candidate for this laser hair removal treatment.
4. Is It Safe?
Soprano ICE laser hair removal treatments at Artemedica are among the safest and most non-invasive approaches to eliminate unwanted hair growth. Our state of the art laser system delivers a gentle experience with no negative long term side effects.
Our patients report feeling both safe and comfortable throughout the procedure and leave delighted with their results.
5. Will I Need Multiple Laser Treatments?
The number of laser treatments you will require depends on your hair color and texture, as well as the speed of your growth cycle. Most patients will require 6 – 8 laser hair removal treatments to complete the series.
Laser hair removal treatments can only eliminate the hair while it is actively growing and all the hair follicles on our bodies grow at different rates. Multiple treatments are required so we can eliminate hair follicles that were previously unaffected.
6. Is It Permanent?
After you have completed all your laser treatments you can expect to experience hair-free periods for up to several years. And up to 80% of that hair in your treatment zone will never grow back at all.
If you experience any hair growth after you have completed your treatments it will grow much thinner and lighter after a year or so. In this case, a maintenance session may be required to further neutralize the root so no hair will grow from it.
7. How Long is a Laser Hair Removal Appointment?
Your laser hair appointment can vary in time based on your treatment location:
10 – 15 minutes: Underarms, face, and bikini zone.
30 – 45 minutes: Full arms, half legs, and chest.
1 – 1.5 hours: Full legs, full back, and other large areas of the body.
8. When Will I See Results from My Laser Hair Removal Treatments?
Immediately following each appointment you will continue to see hair in your treatment zone. Your hair is not extracted from your skin during the procedure. Instead, it is neutralized – or killed – at the root. Your body will then naturally shed the dead hair over a short period of time.
Within a day or two following your laser hair removal treatment, you will begin to see your hair naturally falling out. It is important that you do not try to speed up this shedding process and to allow your body time to naturally lose the hair over the next few days.
9. What is Recovery from Laser Hair Removal Like?
Generally, laser hair removal doesn't require any real downtime. Most patients return to their everyday activities immediately following their treatments even if they experience mild side effects.
Most side effects are temporary and vary from minor swelling, redness, and slight irritation. Most patients report these side effects are very short-lived and manageable with a cold compress. Avoid too much sun exposure and do not scratch, pick, or overly exfoliate the treatment area for up to two weeks following your procedure.
Experience the Benefits of Laser Hair Removal at Artemedica in Santa Rosa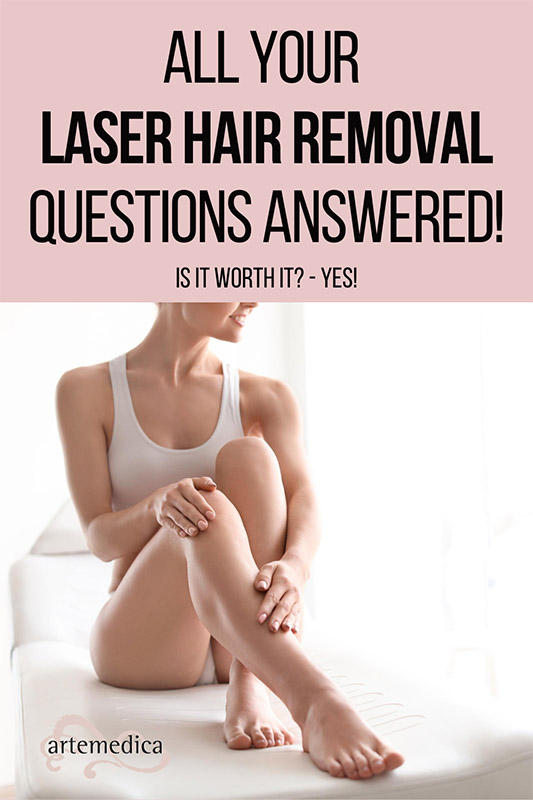 Our experienced laser technicians are dedicated to curating a treatment plan to get you the smoothest skin of your dreams. We will work with you to achieve your optimal laser hair removal treatment results safely and easily.
Fill out the form below to be one of the first to get a personalized hair removal treatment
consultation at Artemedica as soon as possible!
Have other laser hair removal questions? Give us a call or email us and the staff at Artemedica will be more than happy to answer them.

Consultation – Laser Hair Removal