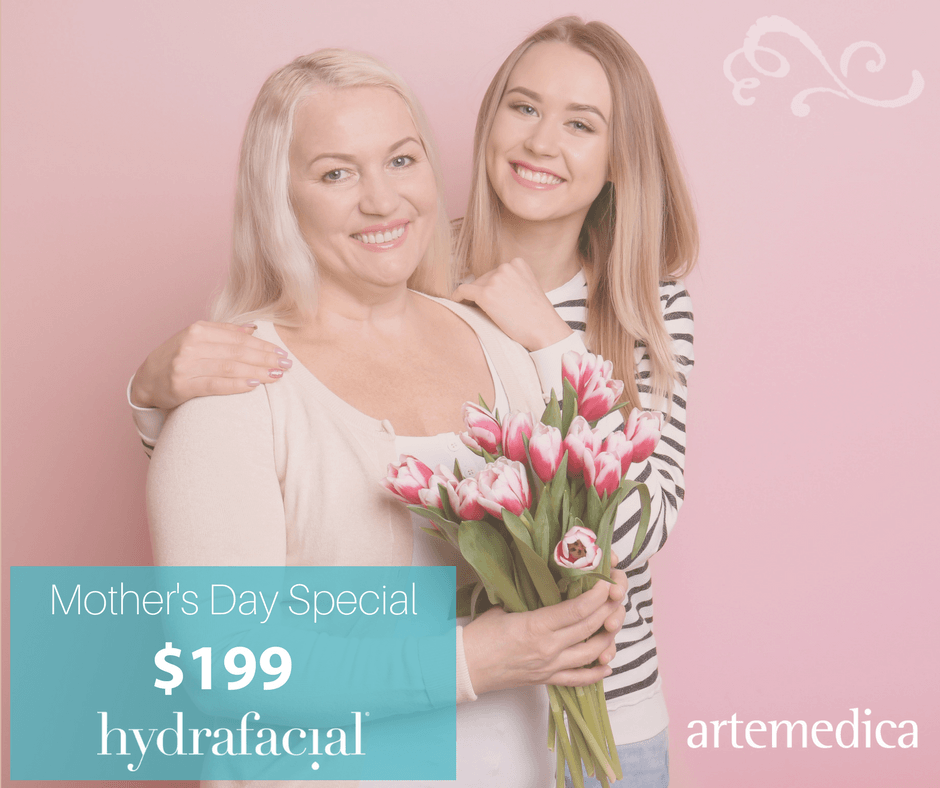 Mother's Day is this weekend and we know everyone already has the perfect gift picked out, wrapped up, and ready for Sunday brunch. Right? …. No!?
Well, you've come to the right place. We're here to help make your gift giving process a little easier. So if you're at a loss for what to get the mom, mother-in-law, spouse, or mentor in your life, below is a list of some of our top treatments and products. Guaranteed to make that special matriarch in your family feel loved and cared for.
HydraFacial MD is a multi-step treatment to cleanse, evenly exfoliate, extract impurities and remove dead skins cells all while replenishing your skin with vital nutrients like antioxidants, peptides, and hyaluronic acid. Your skin looks best when it's in its healthiest state and HyrdraFacial's focus is removing contaminants and restoring nutrients. The result is better looking, healthy skin inside and out.
Microdermabrasion technology takes skin resurfacing to the next level resulting in more radiant and firmer skin. This resurfacing treatment will smooth skin, minimize pore size, lighten sun damage, and refine scars. Microdermabrasion combines precision brush tip exfoliations, topical solutions, and variable vacuum pressure for the most precise and comfortable skin treatment available.
Botox is an incredibly popular solution for rejuvenating and refreshing your appearance. Smoothing out unwanted wrinkles and lines such as crow's feet, frown lines, and worry lines are what it does best. Women and men alike have depended on this procedure to keep their appearance looking fresh, cheerful, and youthful. A Botox procedure is quick and virtually painless. If you're looking to eliminate wrinkles and lines, Botox might just be your answer
Artemedica carries a fantastic selection of high-quality products for all of your skincare needs. We're committed to offering the absolute best in skincare options for a variety of routines including a marvelous product known as Latisse. Latisse is the first and only FDA-approved treatment for growing longer, fuller, and darker eyelashes! If your eyelashes aren't at the length and fullness you desire then Latisse may be for you. A product that takes less than a minute a day to apply and results in beautiful, lengthy lashes.
Designer Sunglasses
Artemedica Optica offers eyewear from some of the greatest designers in the world. Our selection is sure to include a pair of glasses that mother will fall in love with. Give a gift that grants crisp and clear views without glare or harmful UV light. Style and luxury combined with both aesthetic and practical customization options are sure to be a favorite gift this Mother's Day.
Give Back to Mom this Mother's Day with Artemedica
The pressure is on but it isn't too late. Call or contact online the experts at Artemedica today. They will be happy to tell you all about their many treatments and products that will surely make that special mother in your life feel appreciated and extra special.