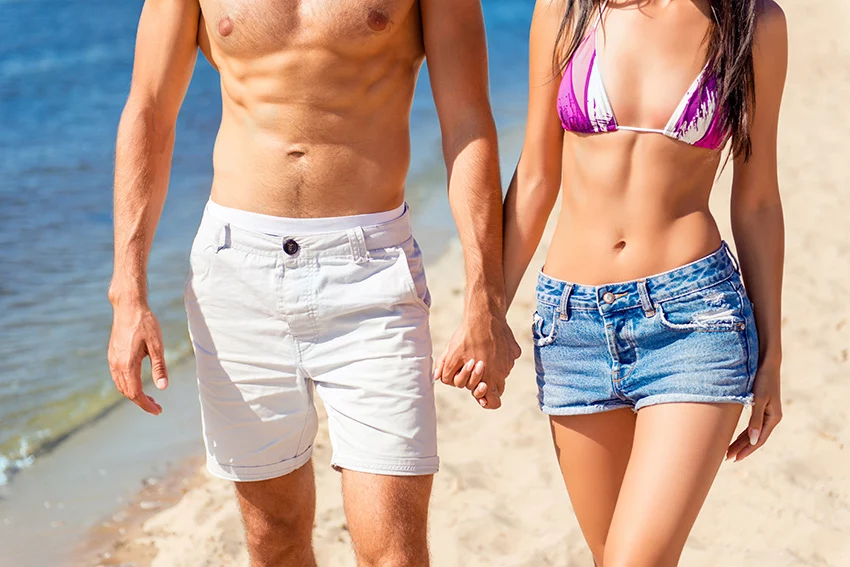 How to Get Your Ideal Physique with Non-Surgical Body Contouring Treatments
We all know at least one person who eats whatever they want and has zero body fat, or who's never done a sit-up in their life but somehow has defined abs. So, what's their secret?
No secret. It's probably just in their genes.
For many men and women, genetics can make it literally impossible to lose fat or build muscle definition in certain areas of the body. So if you're struggling with stubborn areas of body fat that just won't budge, or hard-to-reach muscle groups that no exercise routine can help define, it's definitely not your fault!
Consistently making healthy diet choices and exercising regularly but not reaching your body goals can leave anyone feeling frustrated and defeated. But for many of us, it can actually be impossible to achieve our ideal physique with diet and exercise alone  – enter body contouring.
Body contouring treatments are a safe and effective way to reduce stubborn fat stores, build and define muscles, and even tighten your skin, all without surgery!
What is Body Contouring?
Body contouring and body sculpting treatments include a variety of FDA-cleared, non-surgical solutions to reducing body fat and stimulating muscle growth. Non-invasive body shaping treatments are more advanced and more successful than ever before.
Individual treatments are designed to target different areas of the body and utilize advanced technologies to achieve specific results. These procedures use controlled processes that target fat and muscle tissue beneath the skin's surface that stimulate the body to expel affected fat cells through natural processes. It's a great option for patients who are in good overall health but struggle with unwanted fat pockets.
Our new Healdsburg office offers a large selection of treatments that can be personalized to help you achieve your physique goals without the need for surgery. You can use this guide of our top body contouring treatments to help find which is right for you!
1. Build Strong and Defined Muscle with CoolTone™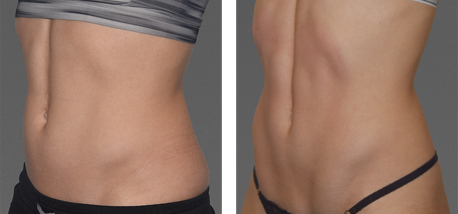 Cooltone treatments offer a non-invasive solution to increasing your muscle mass and tone hard-to-reach muscle groups. With this innovative contouring treatment, men and women are finally able to firm and tone major muscles with no additional exercise or change to their daily routine at all.
The sculpting system utilizes FDA-cleared MMS technology (Magnetic Muscle Stimulation) to painlessly activate major muscle groups and cause contractions to stimulate growth effortlessly.
CoolTone Treatment Areas:
– Abdomen
– Buttocks
– Thighs
For optimal results, CoolTone treatments are administered over time in a series of 30-minute sessions. Every session is personalized to stimulate muscle growth in targeted areas to help you achieve full-body definition.
2. Effortlessly Lose Stubborn Body Fat with CoolSculpting®

Artemedica was the first to offer this FDA-cleared treatment to men and women in Sonoma County and since then CoolSculpting has quickly become the #1 fat-reduction treatment in the world!
The CoolSculpting device uses a patented form of controlled cooling technology that painlessly freezes and destroys unwanted fat cells in targeted areas of your body. Once the fat deposits have crystallized, they die and since your body has no use for them anymore, your system naturally flushes them out, and you're left with a more defined physique!
CoolSculpting Treatment Areas:
– Upper & Lower Abdomen
– Flanks (love handles)
– Back/Bra line
– Inner & Outer Thighs
– Submental Fat (double chin)
– Under Buttocks
– Knees
As your body sheds the useless fat cells you will begin to see results as little as 3-4 weeks following the treatment. Over the next 2-4 months your system will continue to remove all the affected fat deposits leaving your figure looking naturally sculpted and defined effortlessly.
Each CoolSculpting treatment is personalized to your goals, so for optimal results, sessions are usually performed for 30-60 minutes. Treatments are non-invasive so patients only experience a cooling sensation with no pain or downtime required.
Our patients report incredible satisfaction with their results in as little as one treatment. In fact, in most treated areas we see as much as a 25% reduction in total fat on average! This leads to many choosing to enhance other areas of their bodies because of how simple and easy CoolSculpting is!
3. Burn Fat and Build Muscle with Emsculpt®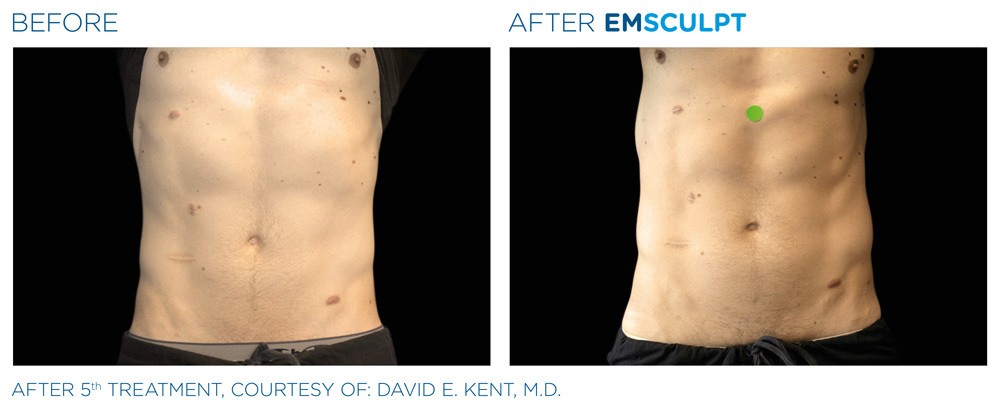 EmSculpt is the world's first and only non-invasive body shaping treatment that allows you to eliminate body fat AND build muscle all in one treatment! With this advanced electromagnetic technology, men and women all over the world are now effortlessly achieving a more toned and fit physique without surgery.
The EmSculpt device painlessly delivers High-Intensity Focused Electromagnetic energy (HIFEM) to deep, hard-to-reach muscles. This energy stimulates the muscles causing them to contract, essentially inducing an intense workout that no regular exercise could ever achieve. Like any workout, these muscle groups will begin to build mass as they grow stronger which in turn naturally accelerates fat loss in these areas as well.
Emsculpt Treatment Areas:
– Abdominals
– Arms
– Calves
– Thighs
– Buttocks
Most patients report no discomfort during or after their treatments and instead feel like they have just gotten a really good workout in as their muscles immediately begin to grow stronger. In fact, several scientific studies have concluded that patients experience 19% fat loss and a 16% increase in muscle mass on average!
Each EmSculpt session is so quick and easy, you will typically be done in as little as 20-30 minutes depending on the area you're treating. There is no downtime required after each session, but for optimal results, it is recommended you receive a minimum of 4 sessions 2-3 days apart.
Find the Best Body Contouring Treatment for You at Artemedica Healdsburg
We are proud to have the largest selection of non-invasive body sculpting treatments available in the North Bay! Many of our Healdsburg patients utilize the unique benefits of multiple contouring therapies we offer. Our specialists can create a personalized treatment plan to maximize your results based on your physique, fitness, and ultimate desired results. Whatever your body goals are – Artemedica has you covered!
Contact our Healdsburg office to schedule a free body contouring consultation at (707) 415-8888, or online today!