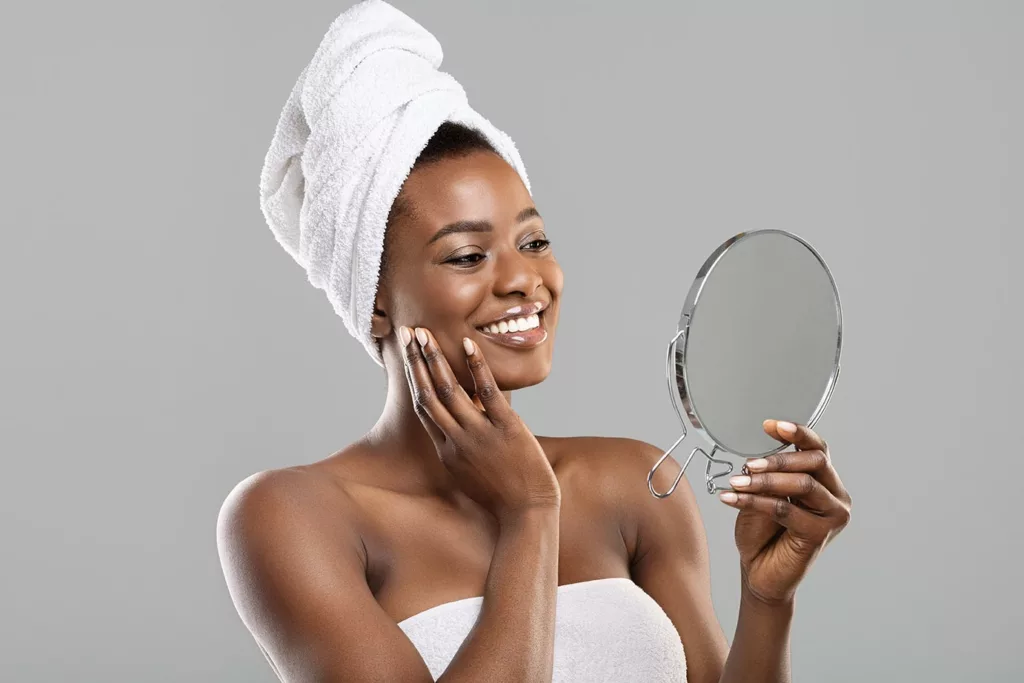 At Artemedica, we have always been at the forefront of new technology and the latest treatment options. Which is why we are so excited to tell you that one of our mainstays, Vivace Microneedling, just got even better! The FDA recently approved Aesthetics Biomedical's next generation device, Vivace Ultra Microneedling, and it's so revolutionary, it's already garnered an ELLE Future of Beauty Award. The Vivace radio frequency (RF) microneedling system has gotten major upgrades. The treatment now includes ultrasound photo mapping and insulated and non-insulated tips – for even more personalized results!
Vivace Ultra gives Artemedica providers the ability to offer a more customizable treatment with even more precision while covering small and large areas more efficiently. Instead of the standard 36 gold-tipped needles, this new system now offers a variety of tip sizes, including one with 60 gold-tipped microneedles which will allow us to treat larger areas such as abdomen and arms in shorter treatment times. So you can enjoy smoother, tighter skin and more even skin tones on your face, neck, chest and body for a younger-looking you.
What is RF Microneedling?
Microneedling creates hundreds of miniscule abrasions through the skin to stimulate the body's healing response to produce collagen and elastin, which results in smoother, firmer, more radiant skin. Vivace microneedling adds radio frequency (RF), which further enhances the collagen and elastin production, creating a reaction that is more immediate and longer lasting.
Vivace Ultra Takes Microneedling to the Next Level
The Ultra in Vivace Ultra allows for ultra-precision, to give better, more targeted results. This revolutionary device enables your provider to tailor your microneedling treatment and deliver the RF thermal energy more uniformly for faster and more long-lasting results. This RF microneedling system works for a number of skincare concerns, and all skin tones.
Vivace Ultra Can Treat:
Uniform Radiofrequency Energy (RF)
RF heat painlessly boosts the production of collagen and elastin to tighten your skin and reduce fine lines and wrinkles. An exclusive new feature available only with the Vivace Ultra device is a uniform RF heat delivery system designed to evenly distribute the energy into the skin with more accuracy than ever before. This system also offers the largest variety of frequency options of any RF microneedling device, along with customizable speeds for optimal time pulses.
LED Light Therapy
With built-in LED light therapy, the Vivace Ultra device is designed to speed up your healing process by reducing redness and inflammation, so treatments require very little downtime, allowing you to return to your daily activities shortly after treatment.
Gold Tipped Microneedles
The Vivace Ultra system uses both insulated and non-insulated 4, 36, or 60 gold-tipped microneedles. The system also features a unique motor to distribute needles smoothly into the skin for a less-invasive treatment process. These ultrafine microneedles allow nutrient-rich serums to reach deeper into your skin during each microneedling treatment. These advanced solutions work together to reverse the signs of aging and deliver maximum results in less time than ever before.
Benefits of Vivace Ultra Microneedling
Vivace Ultra Microneedling has so much to offer, for an array of different skin concerns, making it the go-to for women and men who are looking for smoother, healthier, and more evenly toned skin. Better yet, this treatment can even be further enhanced by adding PRP (Platelet Rich Plasma), for even more stunning results.
Custom Treatments
The Vivace Ultra device allows your provider to choose the best needle size and depth for a completely customized treatment and the very best results.
Instant and Long Lasting Results
With advanced RF technology built right in, many patients say Vivace microneedling treatments instantly tighten their skin. The Vivace Ultra system encourages your body to ramp up its own collagen and elastin levels. Collagen continues to build following your treatments helping to reduce the signs of ageing and providing lasting, visible improvements for several years. A series of 4 treatments is always recommended for optimal results.
Less Painful Treatments
With the non-insulated and insulated gold-tipped, ultrafine needles, and uniform RF delivery, this treatment is virtually pain free. Your clinician will also apply a personalized compounded numbing cream to ensure your comfort throughout the entire treatment.
Less Downtime
In comparison to many other RF Microneedling devices, there is much less downtime with Vivace Ultra. The addition of LED light therapy reduces redness and inflammation, so you can get back to your busy life shortly after treatment.
Love the Skin You're in with Vivace Ultra Microneedling at Artemedica
With so many benefits, such versatility, and no downtime, Vivace Ultra microneedling is perfect for anyone looking to smooth away wrinkles, and achieve a more balanced skin tone and texture. For more than 20 years, men and women in Santa Rosa, Healdsburg, and throughout Sonoma County have turned to Artemedica for the latest cosmetic treatments and technology.
Dr. Victor Lacombe has devoted his 24 year career to helping Santa Rosa residents reach their cosmetic goals. In fact, he co-authored Lasers in Aesthetic Surgery which is considered a standard must-read textbook for aspiring plastic surgeons. Dr. Lacombe is certified by both the American Board of Facial Plastic and Reconstructive Surgery as well as the American Board of Otolaryngology (Head and Neck Surgery).   
If you are interested in Vivace Ultra Microneedling, please contact our Santa Rosa office online or by (707) 577-8292 for your free consultation.