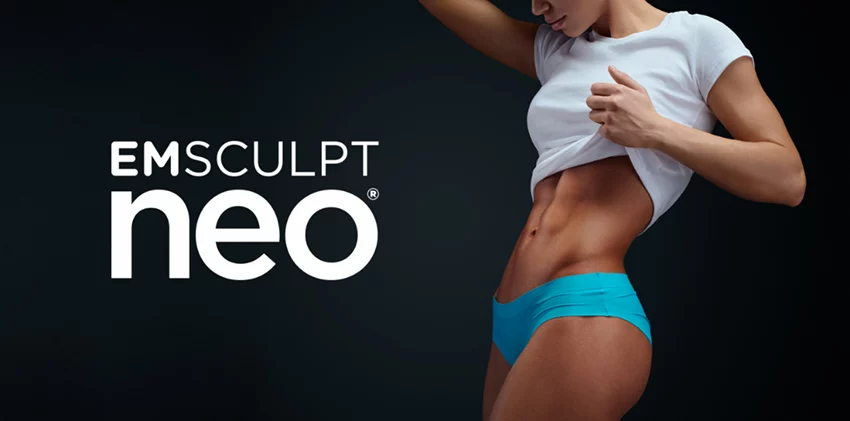 6 Things You Need to Know About the New EmSculpt NEO System at Artemedica
Achieving your ideal physique with diet and exercise alone can be a challenge for anyone. The fact is, most of us are genetically predisposed to carry fat in certain areas of our bodies, and building defined muscle is simply impossible.
For anyone struggling to shed stubborn fat or achieve muscle definition, there are plenty of non-surgical body contouring treatments available that target these problems individually. Most of these systems are either designed to only build muscle or reduce fat during a session – until now.
The new EmSculpt NEO system is the first and only non-surgical body contouring system cleared by the FDA that is clinically proven to reduce fat and stimulate muscle growth simultaneously!
Read on to learn more about the innovative technology used in the EmSculpt NEO machine, and how this system has redefined non-invasive body contouring treatments.
1. Take Body Sculpting to a Step Further
While EmSculpt is already known as the #1 body sculpting treatment for men and women worldwide, the new EmSculpt NEO system takes the science of non-invasive body shaping to a whole new level!
EmSculpt vs EmSculpt NEO
Both body contouring treatments have the power to build up muscle mass while reducing your body fat at the same time. The biggest difference between these systems can be found in the types of technology used to tone and shape your figure, and the results you are able to achieve with each session.
The traditional EmSculpt device uses non-invasive electromagnetic technology (HIFEM®) to stimulate muscle contractions in your target areas. As your muscles effortlessly increase in strength and mass, your body naturally begins to burn fat in the area as well.
The new EmSculpt NEO is the industry's first and only body sculpting system that utilizes two types of therapies to target muscle growth and fat reduction in a single treatment. By combining the power of these two treatments in one machine, EmSculpt NEO provides fat reduction and muscle growth simultaneously in one session.
2. Eliminate Fat with EmSculpt NEO RF Technology
In clinical studies, the EmSculpt NEO body contouring system reduced fat by up to 30% in patient's target areas! The new machine introduces RF (Radiofrequency) energy into each session to provide targeted fall loss like never before.
RF energy is a non-invasive heat therapy used to eliminate fat deposits in your body. With targeted RF heat technology, you can literally melt away supplemental fat cells without any pain or discomfort. After the fat cells have been eliminated, your body naturally flushes them out through your lymph system, resulting in a slimmer and more sculpted physique.
3. Increase Muscle Mass with EmSculpt NEO HIFEM Energy
The EmSculpt NEO system is clinically proven to provide up to 25% muscle gain in your most hard-to-work muscles! By delivering HIFEM® (high intensity electromagnetic magnetic field) energy you can strengthen and build muscle mass to achieve definition not possible with strength training alone.
HIFEM® technology uses powerful electromagnetic energy to stimulate supramaximal contractions in targeted muscle groups. This harmless stimulation causes your muscles to activate, resulting in optimal muscle toning, increased definition, and more strength without the need for additional exercise.
4. EmSculpt NEO is Suitable for More People
With the advances in body contouring technology, the NEO sculpting system is suitable for a much broader spectrum of patients. This innovative treatment is available to men and women with a BMI up to 35! This system has proven to help patients in eliminating fat and building muscle strength in many common problem areas!
Treatment Areas:
Abdomen: Reduce fat and tighten skin while building more abdominal muscle.
Buttocks: Sculpt and lift your butt while strengthening your glute muscles.
Arms: Tightening sagging skin while building your triceps and biceps muscles.
Legs: Target thighs to reduce fat and build muscle mass.
Calves: Sculpt the shape and size of your calves while building muscle strength.
5. Treatments Are Quick and Painless
The EmSculpt NEO applicators deliver two therapies at the same time to provide maximum results to your treatment areas in a 30-minute session! Each session provides powerful muscle contractions and a heating sensation but should never hurt. You should feel your muscles working effortlessly, but never experience any pain or discomfort to your skin or surrounding tissue.
6. See Results Faster with EmSculpt NEO Treatments
The revolutionary EmSculpt NEO machine delivers two treatments at the same time to provide faster results. Each session requires no special preparation, or recovery time so you can experience zero interruption to your daily routine. Every EmSculpt NEO body-contouring session is personalized to deliver optimal results to help you achieve your ideal physique easier.
Before and After Photos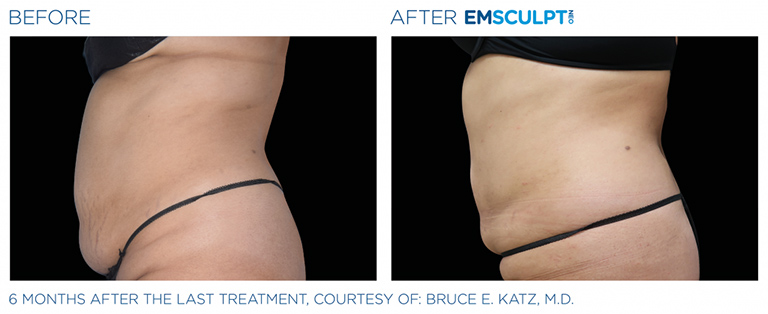 Gain Muscle and Melt Away Fat Effortlessly With the New EmSculpt NEO System at Artemedica
Our EmSculpt NEO technicians are here to help you lose fat and gain muscle with customized body-contouring treatments. We want to work with you to determine the best treatment plan for your personal goals and achieve the sculpted physique of your dreams.
Contact Artemedica by phone at 707-577-8292 or online to schedule a complementary body contouring consultation so our team can create a personalized treatment plan just for you.