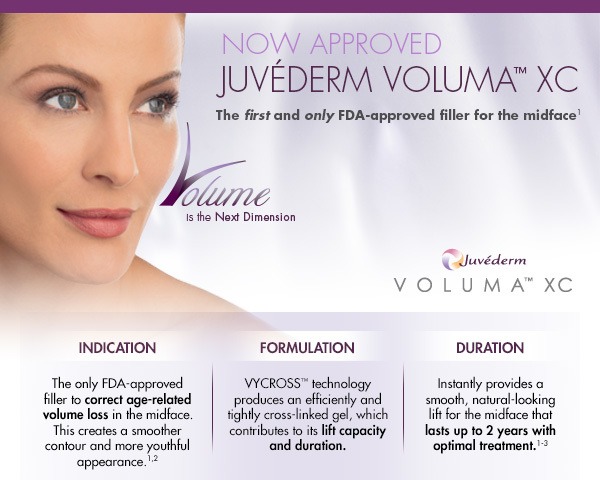 Allergan, the company responsible for bringing us Botox, Juvederm and Latisse can now add another facial aesthetic product to their growing portfolio.
It is with great excitement that they announced this morning that JUVÉDERM VOLUMA XC has been approved by the FDA.
JUVÉDERM VOLUMA XC, unlike any other filler, was specifically developed to restore age-related volume loss in the mid-face (the cheeks, cheekbones and around the chin) .
JUVÉDERM VOLUMA XC helps create a more youthful appearance to the face and provides natural-looking and long-lastingresults up to two years with optimal treatment.
Allergan has been conducting a trial (clinical study) of JUVÉDERM VOLUMA XC since 2010. Santa Rosa Facial Plastic Surgeon Dr. Victor Lacombe has been a clinical investigator in the study from the very beginning.
Dr. Lacombe was selected by Allergan as one of the 15 clinical investigators in the United States and Canada for the JUVÉDERM VOLUMA XC clinical study. He was one of four clinical investigators in California and the only Facial Plastic Surgeon in the study. Having already injected over 500 syringes of JUVÉDERM VOLUMA XC, Dr. Lacombe will be one of the first physicians in California to offer this treatment to the general public.
While we are eagerly waiting for a release date from Allergan, patients are welcome to call our office and they will be placed on our JUVÉDERM VOLUMA XC waiting list. As soon as we get the release date, these patients will be contacted and placed on our schedule for treatment.
We are looking forward to treating women and men in Sonoma, Napa, Marin and surrounding counties with JUVÉDERM VOLUMA XC.
Traveling from out of the area? We work closely with and recommend two hotels within a 10 minute drive of our Santa Rosa practice.
Feel free to contact our office for more information: (707) 577-8292
Double Board Certified: American Board of Facial Plastic and Reconstructive Surgery and American Board of Otoaryngology (Head and Neck Surgery)
Author: "Cosmetic Injection Techniques" and "Lasers in Aesthetic Surgery"
Member: American Academy of Facial Plastic and Reconstructive Surgery and California Society of Facial Plastic and Reconstructive Surgery