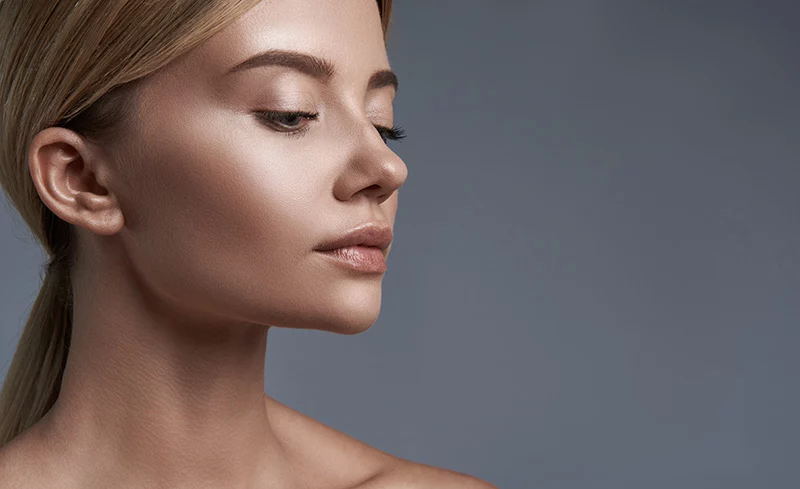 Celebrate National Botox Cosmetic Day with Artemedica on November 18th, 2020
Have you ever considered Botox injections, but are unsure if this cosmetic treatment is right for you? Well, there is no better time than now because National Botox Cosmetic Day is back and everyone at Artemedica is ready to celebrate with a special offer just for you!
Join us for National Botox Cosmetic Day on November 18th, 2020
Get $100 OFF a full syringe of Botox at your appointment on National Botox Cosmetic Day
or Pre-purchase $100 Botox Gift Cards for $50!
At Artemedica, we pride ourselves on providing our patients with personalized care and top of the line cosmetic treatments. Not only are Artemedica providers national trainers for Botox, but Artemedica is also a TOP 100 account in the nation.  
Take advantage of our exclusive one-day deal and experience the amazing benefits of this life-changing cosmetic treatment in the care of Sonoma County's leading Botox providers.
The Benefits of Botox Treatments
Non-invasive 
Relatively pain-free
Requires no downtime
Quick 15 – 20-minute procedure  
Read on to learn why we love National Botox Day so much at Artemedica. Moreover, read about the amazing ways Botox treatments can change your life!  
1. Treat Facial Wrinkles with Botox Injections
Botox treatments are one of the most popular non-invasive cosmetic procedures in the U.S. today. Professionals most commonly use these injections to reduce the signs of aging. They accomplish this by minimizing the appearance of facial wrinkles and expression lines.
When injected into areas of your face, botox blocks the nerve signals responsible for contracting your facial muscles. This causes the corresponding lines and wrinkles to relax and soften, giving you younger-looking skin for up to six months. At Artemedica, our patients report little to no discomfort during the procedure and generally require zero recovery time.
2. Botox Injections Can Reduce the Appearance of Gummy Smiles
Botox injections are a safe and non-invasive solution to reduce the appearance of a gummy smile. When Botox is injected in this area, it immobilizes the upper muscle from exposing your gums while still allowing you to smile naturally.
The procedure is completely non-invasive and the results are natural-looking and symmetrical. Using Botox for gummy smiles is a more affordable solution than surgery, and requires little to no downtime.
3. Botox Treatments Can Offer Relief from TMJ Symptoms
Botox injections have been used as an alternative therapy for treating temporomandibular joint (TMJ) disorder for years. People who have TMJ disorder usually experience sharp pains throughout their jaw while doing everyday activities like eating or talking. Headache, ringing in the ears, or clicking noises are also commonly reported by patients who suffer from this painful affliction.
A simple Botox injection into sore or tense facial muscles can help relieve sufferers of the discomforts associated with TMJ without the need for invasive and expensive surgery. The injections are also proven to minimize lockjaw, teeth grinding, and the accompanying headaches.
4. Reduce Excess Sweating with Botox Treatments
Sweating is a normal body function that every human experiences. But for over 7.8 million people suffering from excessive sweat disorder known as Hyperhidrosis, it can significantly affect their quality of life.
Botox injections have been clinically proven to block the nerve signals responsible for producing sweat. This effectively stops your sweat glands from producing sweat for up to six months. Better yet, over time your Botox treatment can begin to last longer, saving you time, money, and relief from unflattering stains and odors.
5. Botox Lip Flip Treatments Are Non-Invasive
A Botox lip flip is a non-invasive cosmetic procedure that can help you achieve a fuller upper lip without the use of dermal filler or surgery. The procedure involves simple Botox injections into the cupids-bow of your upper lip. As a result, this relaxes the muscles inside of your mouth causing your upper lip to appear naturally plumper.
This procedure is great for men and women looking for a very natural-looking solution to their upper lip "disappearing" when they smile. Botox injections for a lip flip is a less expensive option than other cosmetic procedures and requires little to no recovery time.
Join Artemedica on November 18th for National Botox Cosmetic Day!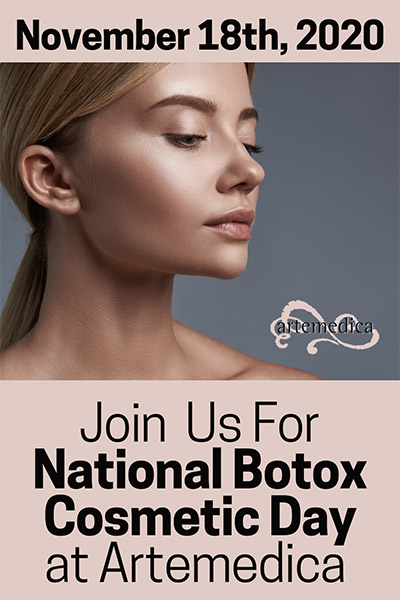 At Artemedica, National Botox Cosmetic Day 2020 is all about celebrating you! So go ahead and experience the amazing benefits of this revolutionary cosmetic procedure for yourself, and don't miss out on our exclusive special offer!
Get $100 OFF a full syringe of Botox at your appointment on National Botox Cosmetic Day or Pre-purchase $100 Botox Gift Cards for $50!
Fill out the form below to RSVP to Artemedica's National Botox Cosmetic Day celebration on November 18th, 2020!
RSVP – Botox Cosmetic Day 2020
RSVP