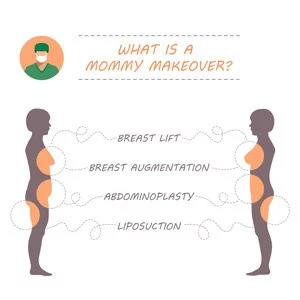 Pregnancy and Motherhood are some of the happiest times of a woman's life. Through the trials and triumphs, hardships and stress, women persevere and prove their strength both emotionally and physically.
While women are resilient, the effect of the stress and body changes pregnancies put on our bodies is not always easily reversible with just diet and exercise. Some women, in their quest to regain their pre-pregnancy body, find that stubborn problem areas such as the stomach and breasts need some extra help.
This is where Mommy Makeover procedures step in. Often, the problem areas our patients describe are not due to fat or issue that can be remedied with dieting and exercise but are issues related to stretched or sagging skin.
A Mommy Makeover is a series of multiple plastic surgery procedures that help to restore or improve their post-pregnancy bodies. There is no one-size-fits all definition for a Mommy Makeover as each women's unique needs are specific to their body and issues.
Common Procedures in a Mommy Makeover include:
The key to understanding a successful Mommy Makeover relies on choosing a highly skilled and experienced plastic surgeon. You surgeon will work with you to ensure that the rejuvenation you are seeking is a realistic and possible result.
Most women are candidates for a Mommy Makeover, although the only way to truly know is to schedule a complimentary consultation with your plastic surgeon. Good candidates are in good overall health, have realistic expectations, and have successfully reached a stable post-pregnancy weight. During your consultation, our expert body and breast plastic surgeon Dr. Michelle Eagan will review your medical history, health, and areas of concern.
It is always important to understand that while our patients report immense happiness, satisfaction, and an overall self-esteem boost after successfully completing and healing from their Mommy Makeover procedures, this makeover will only reverse the body issues and do not prevent the body and breasts from naturally changing with age.
Typically, you will complete the procedures in a few stages, but it ultimately depends on the procedures being performed and the recommendation of your plastic surgeon. Your recovery time will also depend on the procedures performed. However, most procedures require at least two to four weeks before they can fully return to work or daily activities.
If you would like to learn more about planning your own Mommy Makeover and regain your pre-pregnancy satisfaction with your body, contact the trusted team of experts at Artemedica or schedule your complimentary consultation today.