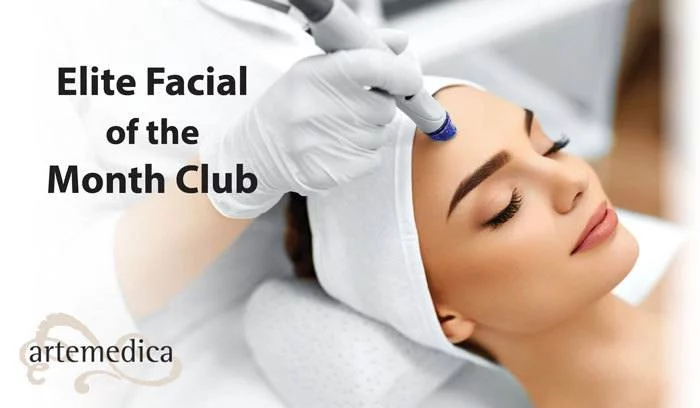 Join Artemedica's Elite Facial of the Month Club
for only $185 a month
($250-$275 value)
Personalize the treatment to your skin
Don't be tied down to just one treatment!
BONUS: Receive a free collagen treatment mask (a $35 value) at your first service, at month 6 and 12.
How it works:
Choose one treatment each month
Treatment Options:
• Microneedling: The Microneedling™ is a revolutionary micro-needling device which aims to tighten, lift and rejuvenate skin. The Microneedling™ can visibly improve the appearance of : fine lines. Wrinkles, acne scars. The Microneedling promotes a process of new skin growth through the science of Collagen Induction Therapy. (downtime: 2-3 days)
• Dermaplaning with Illuminize Peel– Dermaplanning is a great non-invasive, non- irritating treatment for the removal dead skin cells, as well as vellus hair (peach fuzz). Benefits include lessening the appearance of acne scarring, any sun damage or hyperpigmentation, and fine lines and wrinkles. Paired with our lightest chemical peel, the Illuminize peel, to enhance results even more- leaving you with smoother radiant skin (no downtime)
• HydraFacial MD: HydraFacial is the only hydradermabrasion procedure that combines cleansing, exfoliation, extraction, hydration and antioxidant protection simultaneously, resulting in clearer, more beautiful skin with no discomfort or downtime. The treatment is soothing, moisturizing, non-invasive and non-irritating. ( no downtime)
• Rejuvenize Peel with DermaSweep: SkinMedicas deepest professional grade chemical peel. Treats sun damage, melasma, acne scarring, fine lines, and wrinkles. Prepping your skin first with our DermaSweep (particle-free microdermabrasion) helps the peel to penetrate the skin better. (downtime 2-3 days)
Call us at (707) 577-8292 or contact us today to get started!
*no sign-up fee, cancel at any time
*we will collect payment when you schedule your next month's treatment.
*You can skip ONE month's treatment but you will still have to pay the $185 and use that treatment ASAP or gift to a friend/ family member
* If you skip more than a month your membership will cancel and you can re-join after a year from that date.
*May not be combined with any other offers