Available late fall 2023 in Santa Rosa & Healdsburg! Use the form below to join the waitlist!
Even when we're well-rested, sometimes those dark under eye hallows just happen, often as the result of age and stress. If you're looking for a long-lasting, safe treatment for those dark circles under the eyes, Restylane Eyelight tear trough filler is for you! Restylane Eyelight is a hyaluronic acid (HA) injectable formulated specifically to reduce the appearance of dark circles under the eyes. Benefits of Restylane Eyelight tear trough filler: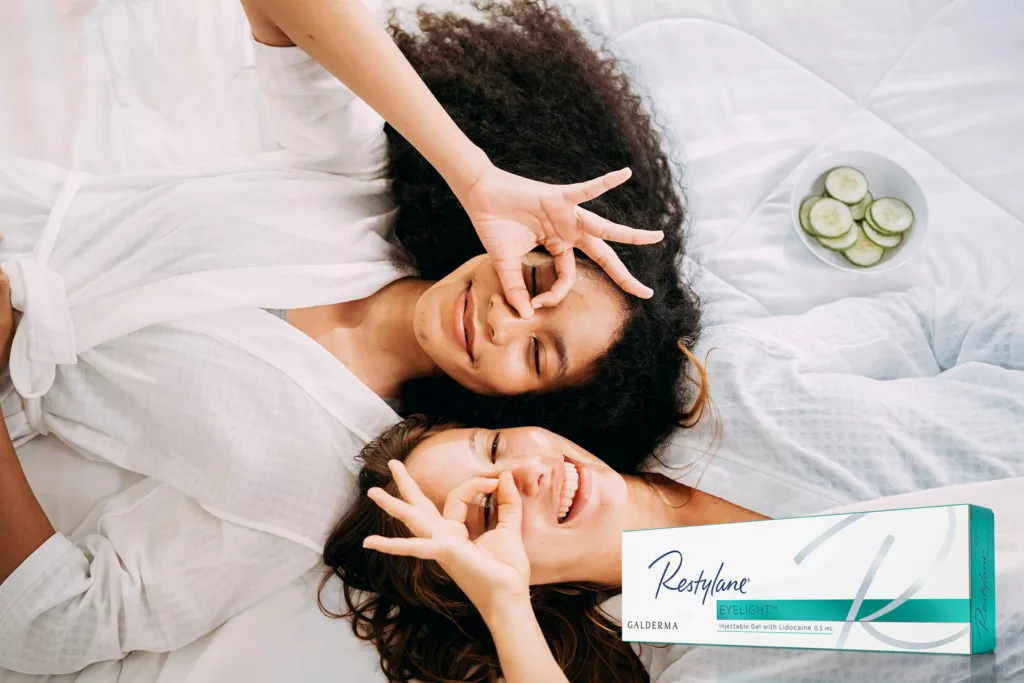 Say goodbye to dark under-eye circles for up to 18 months!
Eyelight tear trough filler uses Restylane's NASHA® Technology, which delivers hyaluronic acid (HA) to your under eye area, adding youthful volume and long-lasting results for dark undereye hollows. Even after just one treatment of Restylane Eyelight under-eye filler, your friends will remark on your beautiful eyes, rather than ask you if you're tired!
Volumizing the "tear trough" between the lower eye lids and the cheeks is one of the most requested facial treatments today among men and women. With Restylane Eyelight injections at Artemedica, you can enjoy: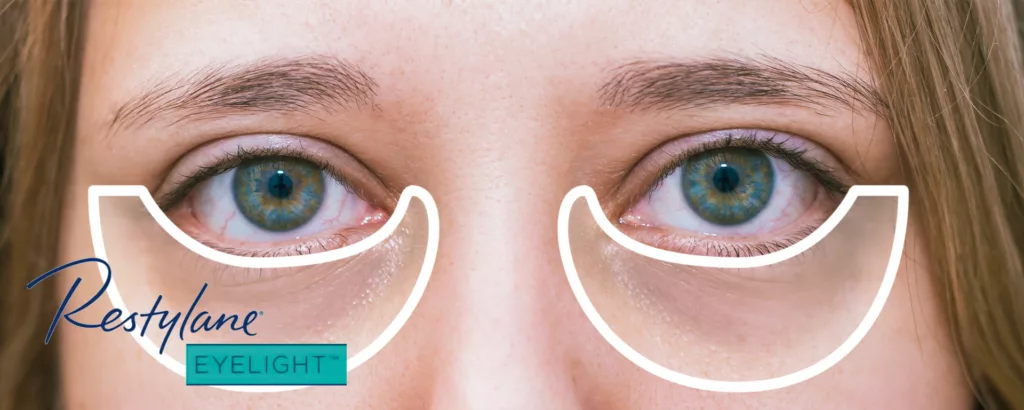 Getting Restylane Eyelight tear trough filler at Artemedica
When you receive an under-eye filler at Artemedica, you can count on friendly, supportive staff, skilled injectors, and amazing results. Restylane Eyelight injectable HA filler contains a small amount of local anesthetic (lidocaine) which numbs the injection site, so that any discomfort or redness will be minimal. Patients typically report no pain at all but may experience a brief pinch.
If you do feel any discomfort or anxiety before or during your treatment, you can always ask your provider about PRO NOX.
Recovery
After you receive your undereye dark circle treatment, you can return to your daily routine with minimal recovery and no downtime required. Some patients may experience slight swelling, bruising and redness at the injection site(s), but this should dissipate within a few days. If you experience any discomfort, apply an ice pack to the treated areas. 
Restylane Eyelight tear trough filler results
Three months after receiving Restylane Eyelight filler, 94% of patients who participated in the clinical trials reported they would get the treatment again. Many patients also reported that they looked less tired and that their results appeared natural. In fact, 18 months after receiving optimal treatment with Restylane Eyelight, 99% of trial participants agreed that their undereye hollows had improved!
Get a Free Restylane Eyelight Consultation at Artemedica
Dr. Lacombe has devoted his 24 year career to helping Santa Rosa residents reach their facial plastic surgery goals. In fact, he co-authored Lasers in Aesthetic Surgery which is considered a standard must-read textbook for aspiring plastic surgeons. Dr. Lacombe is certified by both the American Board of Facial Plastic and Reconstructive Surgery as well as the American Board of Otolaryngology (Head and Neck Surgery). Many men and women in Santa Rosa and throughout Sonoma County choose Dr. Lacombe as their plastic surgeon of choice because of his experience, skill, and passion for helping his patients.
If you are interested in Restylane Eyelight or other cosmetic injections, please fill out the form below or contact our Santa Rosa (707) 577-8292 or Healdsburg (707) 415-8888 offices for your free consultation.
Join the Waitlist Today!
Restylane Eyelight Asked Questions
What is Restylane Eyelight?
Restylane Eyelight is the latest in HA fillers by Restylane, newly approved by the FDA for treatment of dark, hollowed tear troughs.
Is Restylane Eyelight safe?
Yes! Restylane Eyelight is FDA approved for the treatment of undereye hollows. When injected by a trained professional, this treatment has been proven to be safe for healthy patients wanting to add volume under the eyes and diminish dark circles.
How does Eyelight work?
Restylane Eyelight contains hyaluronic acid (HA) that is comparable to your body's own natural HA. When injected in the under eye area, this gentle filler volumizes the tissue instantly reducing the appearance of dark circles. This smooths and plumps the tear through area reducing shadows and hollows so your under eyes appear brighter and less tired.
How long will my results last?
Studies have shown that with optimal treatment, Restylane Eyelight results last for up to 18 months.
Why should I go to Artemedica for Restylane Eyelight Tear Through Filler?
Dr. Lacombe and the other injection specialists at Artemedica are proud to be one of the first practices nationwide to offer Restylane Eyelight filler to patients at both our Santa Rosa locations and our Healdsburg clinic as well. Artemedica clinics are among Galderma's top 100 aesthetic offices in the country. This is the highest level of distinction from Galderma, the makers of Restylane cosmetic injectables. Dr. Lacombe ensures that he remains a leading provider of all the latest cosmetic treatments and techniques. As a result, his patients can be assured of the safest and most modern surgical and aesthetic treatments available today, including the most innovative facial rejuvenation procedures.