As you age, your lips can naturally begin to lose plumpness and structure. Restylane Kysse injectable fillers are designed to provide a more natural-looking shape and fuller structure to thinning lips. This brand new hyaluronic acid filler is designed to tenderly add volume to your lips, while increasing lip definition, color and texture. This gives you a softer, natural-looking pout with long-lasting results.
The difference between Restylane Kysse and other injectable lip fillers on the market can be found in the formula's versatility. With new XpresHAn technology, Restylane Kysse injections balance structure and flexibility, giving you both increased lip structure and fullness with one product. You can now add definition to your mouth's border, increase lips plumpness, and reduce laugh lines all with one product!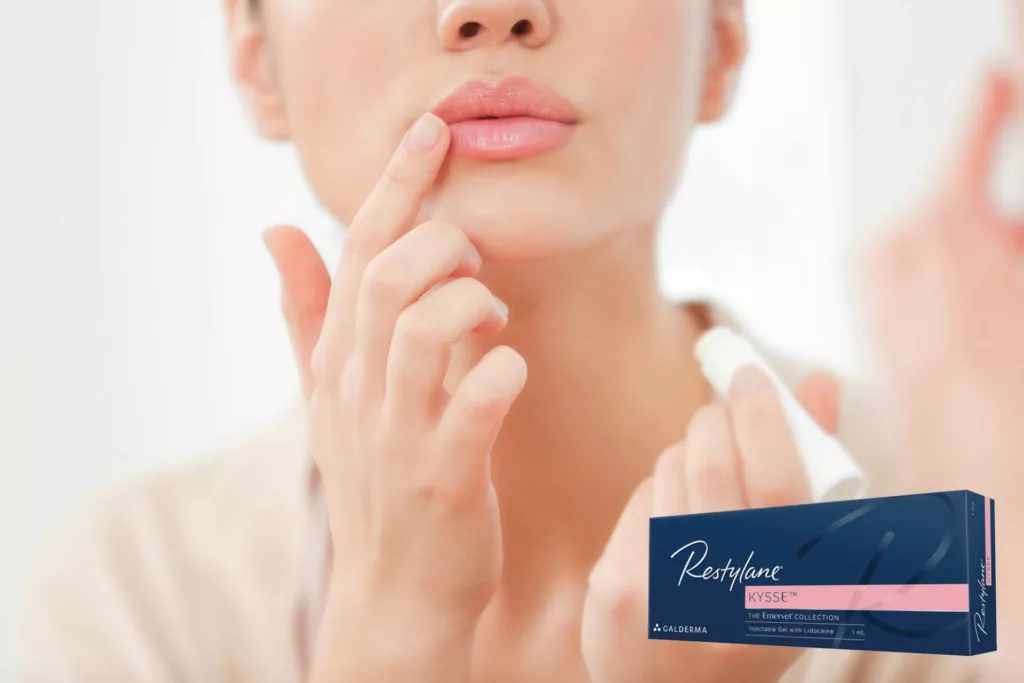 How do hyaluronic acid dermal fillers like Restylane Kysse work?
Injectable lip fillers like Restylane Kysse are made from a naturally occurring substance called hyaluronic acid (HA). Your skin actually depends on HA to maintain its elasticity and flexibility as well as to stay hydrated since HA is excellent at retaining water. As we age, your skin begins to produce less and less HA causing skin to lose its elasticity and volume. The gel is injected beneath the skin's surface to smooth out lines and wrinkles and restore lost volume. Because hyaluronic acid is naturally occurring, it's perfectly safe to use even if you're nursing or pregnant. So long as you are over the age of 21 and seek to correct thin or thinning lips, anyone is a candidate for Restylane Kysse injectable fillers.
Restylane Kysse was developed specifically for patients with sensitive lips. The hyaluronic acid-based gel also contains local anesthetic lidocaine for improved comfort during treatment. The injection softly integrates into your lip's tissue, resulting in little swelling and reduced discomfort for even the most sensitive lips. It addresses: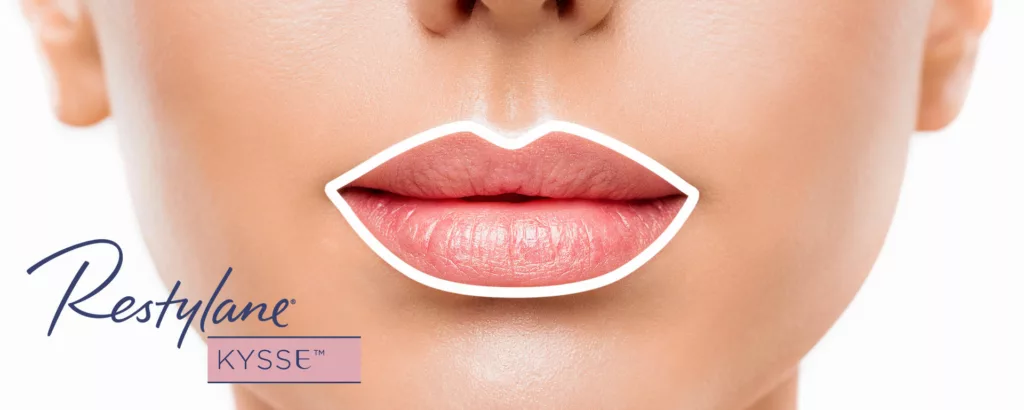 Get plumper, more vibrant, kissable soft lips with Restylane Kysse at Artemedica
The entire injection process is quite straightforward and fast. Before your injections, Dr. Lacombe or one of our other trained clinicians will provide local anesthesia to ease discomfort. It will take some time for the anesthetic to kick in, but afterwards you should feel minimal to no pain. Your provider will then ease the dermal filler under your skin to smooth out any targeted wrinkles and folds, instantly increasing volume. Following your injection, Your provider may massage the treated areas to evenly distribute the dermal filler and minimize any bruising or swelling. The whole procedure should take no more than 15-30 minutes depending on the size and scope of the areas to be treated.
If you do feel any discomfort or anxiety before or during your treatment, you can always ask your provider about PRO-NOX.
Recovery after your injection treatment
After your treatment ends, you can return to your daily routine with minimal recovery and very little downtime. Some patients experience swelling, bruising and redness at the injection site(s), but this should dissipate within a few days. If you experience any discomfort, apply an ice pack to the treated areas.
Because Restylane is an injectable filler and not a neurotoxin like BOTOX, results are immediate and long-lasting. Typically, results last up to 12 months with optimal treatment, although results vary from patient to patient.
Restylane Kysse Injections in Santa Rosa and Healdsburg
Dr. Lacombe has devoted his 24 year career to helping Santa Rosa residents reach their facial plastic surgery goals. In fact, he co-authored Lasers in Aesthetic Surgery which is considered a standard must-read textbook for aspiring plastic surgeons. Dr. Lacombe is certified by both the American Board of Facial Plastic and Reconstructive Surgery as well as the American Board of Otolaryngology (Head and Neck Surgery). Many men and women in Santa Rosa and throughout Sonoma County choose Dr. Lacombe as their plastic surgeon of choice because of his experience, his skill, and his passion for helping his patients. Furthermore, he has been recognized as a Top 100 volume injector for Restylane, Restylane Silk & Restylane Lyft.
If you are interested in Restylane Kysse injections or other cosmetic injections, please fill out the form below or contact our Santa Rosa (707) 577-8292 or Healdsburg (707) 415-8888 offices for your free consultation.