We are excited to announce that we are now accepting CareCredit in our Santa Rosa Plastic Surgery Practice!

CareCredit is a healthcare credit card that allows you to pay for cosmetic treatments and procedures with affordable payment plans. It's easy and fast to apply! We offer CareCredit on the following treatments over $1,000.
Facial Plastic Surgery:
Face and Neck Lifts, Nose Surgery (Rhinoplasty), Laser Resurfacing, Brow Lift, Eyelid Surgery, Ear Surgery and more!
Body and Breast Surgery:
Breast Augmentation, Breast Lift, Breast Reduction, Liposuction, Tummy Tucks, Mommy Makeover, Calf Implants, Brazilian Butt Lifts and more!
Non-Surgical Treatments:
Botox, Injectable Fillers such as: Juvederm, Voluma, Restylane and Sculptra, In-Office Laser Treatments, CoolSculpting, Thermage, MiraDry, and more!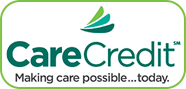 Applying is easy and takes only minutes to complete! Apply now or to learn more about CareCredit, please contact us at 707.577.8292!